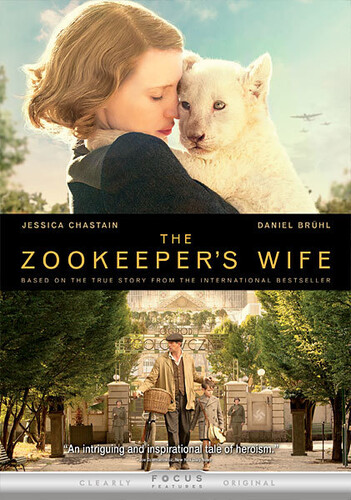 Want to Sell your Copy?
The Zookeeper's Wife
Availability: 9 IN STOCK
Add to Personal Favorites
DVDs & Blu-ray include disc, cover art, and case. Bonus downloadable or promotional content may have already been redeemed. Promotional items (3-D glasses, figurines, t-shirts, posters, jewelry, books or other non-media items) may not be included. Cleaning and repair was done as required.
Format:
Used
DVD
Release Date:
07/04/2017
MPAA Rating:
PG13
Studio:
Universal Studios
Discs:
1
Language:
English
UPC:
025192396540
Product ID:
4750577
Weight:
0.20
Learn more about used
Synopsis
In 1939 Poland, Antonina Zabinska (two-time Academy Award nominee Jessica Chastain) and her husband successfully run the Warsaw Zoo and raise their family in an idyllic existence. Their world is overturned, however, when the country is invaded by the Nazis and they are forced to report to the Reich's newly appointed zoologist (Daniel Brühl). To fight back on their own terms, the Zabinskis risk everything by covertly working with the Resistance and using the zoo's hidden tunnels and cages to save families from Nazi brutality.