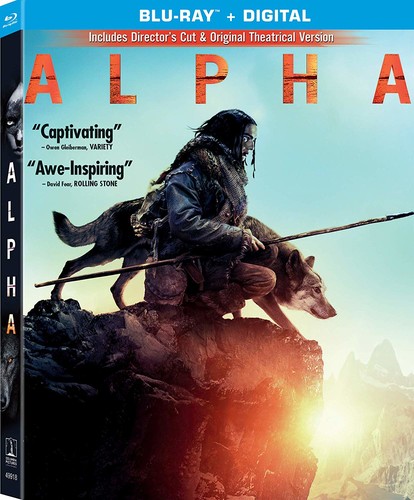 Want to Sell your Copy?
Alpha
Availability: 7 IN STOCK
Add to Personal Favorites
DVDs & Blu-ray include disc, cover art, and case. Bonus downloadable or promotional content may have already been redeemed. Promotional items (3-D glasses, figurines, t-shirts, posters, jewelry, books or other non-media items) may not be included. Cleaning and repair was done as required.
Format:
Used
Blu-Ray
Release Date:
11/13/2018
MPAA Rating:
PG13
Studio:
Sony Pictures
Discs:
1
Language:
English
Subtitle:
Spanish
UPC:
043396499188
Product ID:
4916155
Weight:
0.18
Learn more about used
Synopsis
Europe, circa 18,000 BC: On a buffalo hunt with his tribe, young chieftain's son Keda (Kodi Smit-McPhee) was left for dead after a fateful cliff plunge. Having survived the fall-as well as a subsequent attack from a wolfpack-he makes the choice to nurse the alpha he wounded in battle... and the two find themselves forging an unlikely partnership and bond as Keda struggles homeward. Striking, atmospheric family adventure saga co-stars Jóhannes Haukur Jóhannesson, Natassia Malthe, Leonor Varela. 96 min. Widescreen; Soundtrack: English.