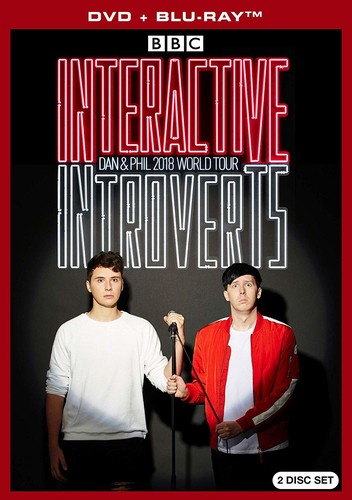 Want to Sell your Copy?
Dan & Phil 2018 World Tour: Interactive Introverts
Only 1 left in stock - order soon!
Add to Personal Favorites
DVDs & Blu-ray include disc, cover art, and case. Bonus downloadable or promotional content may have already been redeemed. Promotional items (3-D glasses, figurines, t-shirts, posters, jewelry, books or other non-media items) may not be included. Cleaning and repair was done as required.
Format:
Used
Blu-Ray
Release Date:
12/11/2018
Studio:
BBC Warner
Discs:
2
Language:
English
UPC:
883929662906
Product ID:
4923361
Weight:
0.29
Learn more about used
Synopsis
Dan and Phil present their new stage show - Interactive Introverts. Two internet dwelling, insecure nerds standing under the spotlight to give the people what they want: an epic interactive experience of rants, roasts, battles, stories and surprises that will make you laugh, cry, cringe and puts the audience in control unlike anything before! Extras: Deleted Scene Dan & Phil Commentary Interactive Simulation Game.