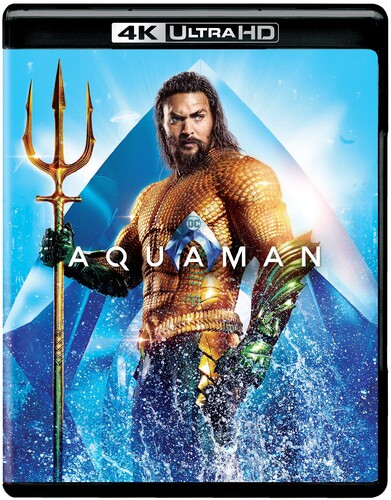 Want to Sell your Copy?
Aquaman [4K Ultra HD Blu-ray/Blu-ray]
Only 2 left in stock - order soon!
Add to Personal Favorites
DVDs & Blu-ray include disc, cover art, and case. Bonus downloadable or promotional content may have already been redeemed. Promotional items (3-D glasses, figurines, t-shirts, posters, jewelry, books or other non-media items) may not be included. Cleaning and repair was done as required.
Format:
Used
4K Ultra HD Blu-Ray
Release Date:
03/26/2019
MPAA Rating:
PG13
Studio:
Warner Home Video
Discs:
2
UPC:
883929624782
Product ID:
4949124
Weight:
0.44
Learn more about used
Synopsis
Jason Momoa returns to his "Justice League" role as DC Comics' Sea King in this starring vehicle, as Arthur Curry-scion of an Atlantean princess (Nicole Kidman) and a human lighthouse keeper (Temuera Morrison)-must reconcile his heritage, and embrace his destiny, when his half-brother regent Orm (Patrick Wilson) seeks to rally the undersea races for a vengeful conquest of the surface world. Amber Heard, Willem Dafoe, Djimon Hounsou, Dolph Lundgren, Yahya Abdul-Mateen II also star. 143 min. Widescreen; Soundtrack: English. Two-disc set.