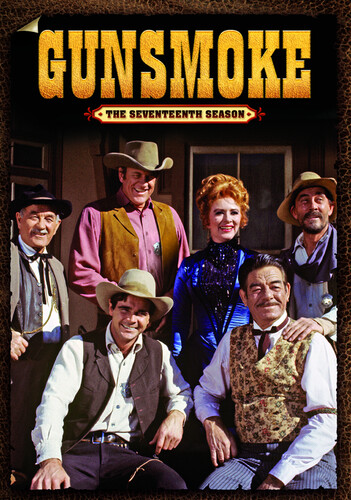 Gunsmoke: The Seventeenth Season
Availability: Out of stock
PRICE:
Add to Personal Favorites
DVDs & Blu-ray include disc, cover art, and case. Bonus downloadable or promotional content may have already been redeemed. Promotional items (3-D glasses, figurines, t-shirts, posters, jewelry, books or other non-media items) may not be included. Cleaning and repair was done as required.
Format:
Used
DVD
Release Date:
12/10/2019
MPAA Rating:
NR
Studio:
Paramount
Discs:
6
Language:
English
Subtitle:
English
UPC:
032429330000
Product ID:
5002417
Weight:
0.50
Learn more about used
Synopsis
It ran from 1955 to 1975 and remains one of the most popular shows in TV history. "Gunsmoke" presented classic Western stories each week and featured James Arness as Matt Dillon, marshal of Dodge City, Kansas. With Milburn Stone as Doc Adams, Amanda Blake as saloonkeeper Miss Kitty, and Dennis Weaver and Ken Curtis as deputies Chester Goode and Festus Haggen, respectively, plus a slew of guest stars.24 episodes on 6 discs. 20 hrs. Standard; Soundtrack: English.