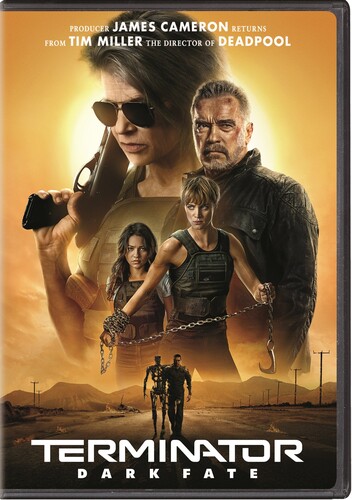 Terminator: Dark Fate
Availability: Out of stock
PRICE:
Add to Personal Favorites
DVDs & Blu-ray include disc, cover art, and case. Bonus downloadable or promotional content may have already been redeemed. Promotional items (3-D glasses, figurines, t-shirts, posters, jewelry, books or other non-media items) may not be included. Cleaning and repair was done as required.
Format:
Used
DVD
Release Date:
01/28/2020
MPAA Rating:
R
Studio:
Paramount
Length:
190 minutes
Discs:
1
Language:
English
UPC:
032429334039
Product ID:
5025501
Weight:
0.50
Learn more about used
Synopsis
Dani Ramos (Natalia Reyes) didn't know why she was being hunted by a shape-shifting killing machine (Gabriel Luna) from the future. She just knew that her survival rested with time-tossed cyborg warrior Grace (Mackenzie Davis), veteran robot fighter Sarah Connor (Linda Hamilton), and aging, assimilated T-800 "Carl" (Arnold Schwarzenegger). Return to the storied sci-fi franchise for producer/co-writer James Cameron co-stars Diego Boneta, Steven Cree, Edward Furlong; Tim Miller directs. 128 min. Widescreen; Soundtracks: English Dolby Digital 5.1, French Dolby Digital 5.1, Spanish Dolby Digital 5.1; Subtitles: English (SDH), French, Spanish.